Big Top Parade
& Circus Celebration
June 24, 2023
Downtown Baraboo
The Big Top Parade will return to the streets of downtown Baraboo on Saturday, June 24, 2023, highlighted one last time by Circus World's elephants.
The parade will step off at 11 a.m. June 24, anchoring a weekend full of circus-themed fun in the Ringling Brothers' hometown. Historic wagons, exotic animals, marching bands and community floats will follow the grand marshals. All will observe the parade's "Go West" theme, which also is the theme of Circus World's 2023 big top show.
"It's a thrill to showcase Circus World's unparalleled collection of wagons in our parade," said George Althoff, Executive Director of the Baraboo Area Chamber of Commerce. "I can't wait to see the floats our sponsors and community groups add to the fun."
The weekend-long circus celebration will start Thursday evening, when Professor Stich's Original Circus Band performs at Concerts on the Square. The Al. Ringling Theatre will present entertainment throughout the weekend. On Saturday morning, acrobats, aerialists and clowns will entertain the crowd downtown before the parade begins.
After the parade, all are encouraged to visit Circus World and see the "Go West" big top show at 1:15 and 3:30 p.m.
Circus Wagons
Circus World is a key partner in the parade, lending its unparalleled collection of historic wagons to the event. Circus Wagons History
Al Ringling Carriage
B&B Golden Age of Chivalry
Mother Goose Pony Float
Old Woman in Shoe
Cinderella Pony Float
Our Country Tableau
Ringling Lion & Mirror Bandwagon
Ringling Bros. Snake Den
Gollmar Bros. Tableau
Ringling Bros. U.S. Bandwagon
Al. G Barnes Tableau (Elephant Tableau)
America Steam Calliope
Beck Family Calliope
Gollmar Mirror
Stringer Wagon No. 201
Marching Bands

132nd Army Band
Baraboo High School Band
Sauk Prairie Marching Band
Dual County Community Band
Soon to Be Famous Band
Forward! Marching Band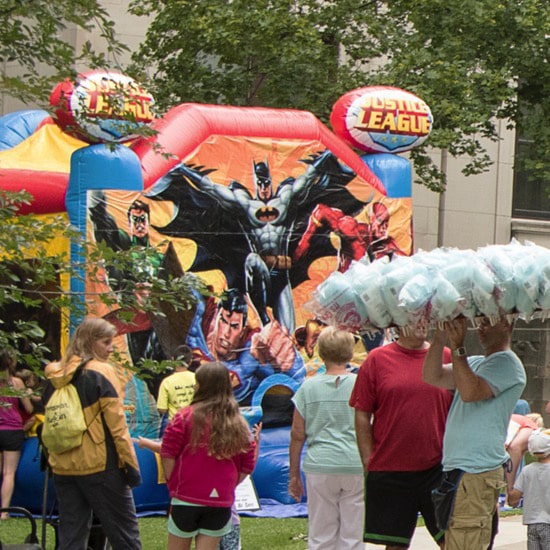 Kids Fun
BOUNCE HOUSES
Forward! Marching Band
On the Square – 9:00am
TERHUNE TRIO
Acrobatic Act — Courthouse Lawn
WILD RUMPUS CIRCUS
Live Performance – Courthouse Lawn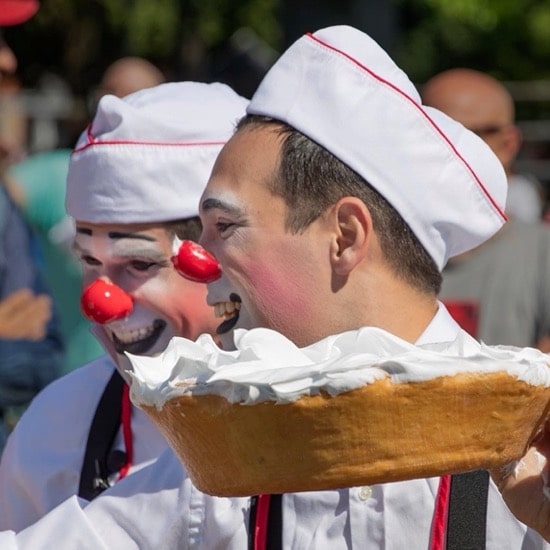 Eat Street
BADGER KETTLE KORN
Kettle Korn
SUGAR RUSH TRUCK
Frozen Sweet Treats
FRENCHIE PRESS
Coffee and Non-Coffee Items
ANY STREET GRILL
Burgers, Hot Dogs and Macaroni & Cheese
EDWARD'S ICE CREAM
Cones, Corn Dogs, Lemonade
LOS MILPA'S
Mexican Cuisine
LOCO SNO
Shaved Ice Snocone
OUR SAVIOR LUTHERAN
Deep Fried Cheese Curds
FRANNIES FRANKS
Specialty Hot Dogs
HEAVENLY SMOKED ROASTERS
Barbecue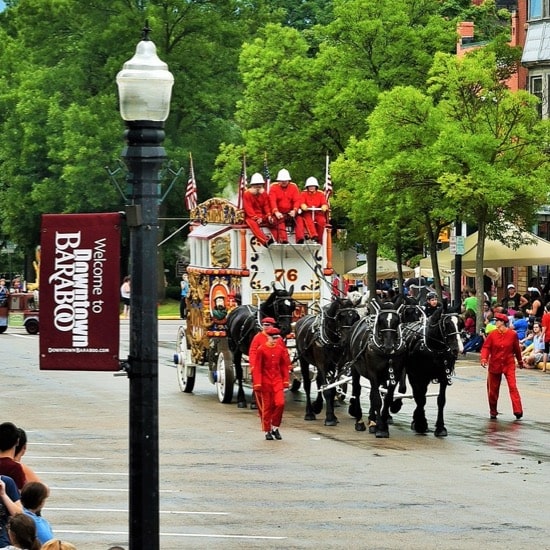 Circus Celebration
AMBASSADORS TENT
10:00am-3:00pm
Domino's Pizza
Water, Soda
Post parade head on down to Baraboo's treasured Circus World to catch a Big Top Performance and later head back downtown for Circus Juventas's western themed show "Fool's Gold" at 7pm at the Al. Ringling Theatre, a palatial playhouse built by the eldest Ringling brother.