Baraboo's Big Top Parade & Circus Celebration
On Saturday, June 25 the the Baraboo Area will come alive with events and activities as the Big Top Parade and Circus Celebration returns to downtown Baraboo. The Big Top Parade & Circus Celebration will feature concerts, children's activities, carnival games, live performances, a concert on the Square and food vendors from 9:00 am – 4:00 pm.
The main event — the Big Top Parade — kicks off at 11:00 a.m. Along with our grand marshal, the parade features over 75 traditional circus parade units and circus-themed entries created by community groups and businesses. Young and old will be enthralled by the circus wagons, marching bands, horses and other animals and of course, a cavalcade of clowns!
Before and after the parade, the Baraboo area and our downtown will be filled with family-friendly events. The entire community will be embracing the parade's theme this year…
Celebrating "Arrr" Circus Heritage!
2022 Parade Wagons
Circus World is a key partner in the parade, lending its unparalleled collection of historic wagons to the event.
Al Ringling Carriage
B&B Golden Age of Chivalry
Mother Goose Pony Float
Old Woman in Shoe
Cinderella Pony Float
Our Country Tableau
Ringling Lion & Mirror Bandwagon
Ringling Bros. Snake Den
Gollmar Bros. Tableau (new)
Ringling Bros. U.S. Bandwagon
Ringling Cage Wagon
America Steam Calliope
Ringling Bros. Giraffe Wagon
Gollmar Mirror
more historic wagons
Circus Celebration Events
Big Top Shows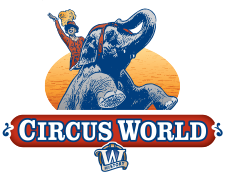 by Baraboo Tours, Hourly, Saturday & Sunday
Take a tour of Baraboo's historic circus sites! Baraboo Tours will lead these trolley expeditions, featuring the community's notable Ringling properties and other locations that played a key role in the rise of the American circus. Tours will depart from Circus World's parking lot Saturday and Sunday, with the first departure at 10 a.m. and the final departure at 3 p.m. Tickets cost $TBA. Register for one of the hourly tours by visiting the Chamber Calendar
2021 SPONSORS
BANK OF WISCONSIN DELLS • THE GRAINERY • PIZZA RANCH • WCCU • TEEL PLASTICS • RE/MAX GRAND • ANDERSEN BARABOO MANUFACTURING • INTERNATIONAL CRANE FOUNDATION • DENTAL ASSOCIATES • SUPREME AWARDS • OAK PARK PLACE • BARABOO HILLS CAMPGROUND • SSM HEALTH/ST. CLARE HOSPITAL • WISCONSIN RIVER TITLE • SKILLET CREEK CAMPGROUND • BARABOO MOTORS GROUP • DEZ TACTICAL ARMS • MBE CPAs • SENECA FOODS • PREVAIL BANK • TOWNS & ASSOCIATES • DON-RICK INSURANCE